ITINERARY
The below itinerary outlines the plans for your four-day luxury escape to Hawke's Bay.
We will be sending through a detailed version of this itinerary closer to the event.
Please note the itinerary is subject to change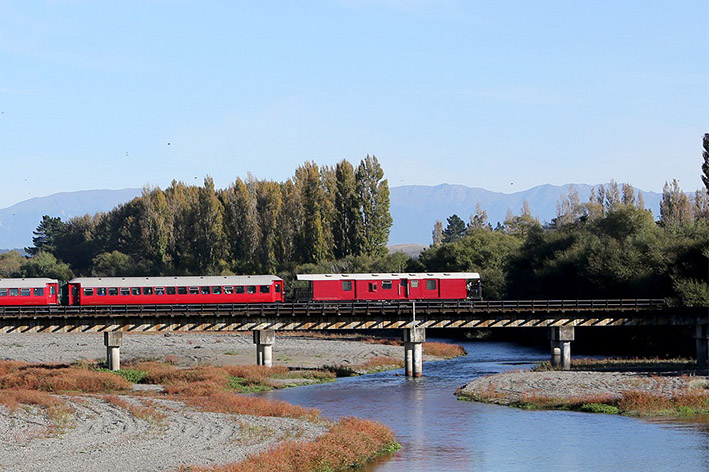 DAY 1 - Monday 8 April
Travel day - Wellington - Hawke's Bay via chartered train
On Monday morning we meet at the Wellington train station from 9am where you will register with our friendly crew to begin your escape. Whilst we prepare for our departure to Napier, enjoy some complimentary tea and coffee and get to know the rest of your tour group.
Our journey to Napier travels via the breathtaking Wairarapa, stopping along the way to take in the bush-clad ranges, rugged coast and small local towns.
Lunch will be served on the train, as well as afternoon tea.
We arrive in Napier in the early evening where chartered buses will meet us to take you to your accommodation. Dinner this night will be at your respective hotels.
Overnight stay at the Nautilus Hotel and the Masonic Hotel
DAY 2 - Tuesday 9 April
Hawke's Bay with Sally Duggan
Breakfast will be enjoyed at your respective hotels.
Our first morning in Hawke's Bay begins with a private House Tour exploring some of the region's most beautiful homes and gardens. Generous homeowners open their doors exclusively for you to marvel over the gorgeous interiors and gardens. Walk away with inspiration and ideas for your own home.
An al fresco lunch in a garden catered by a local favourite, the Pipi Food Truck, is followed by a couple of hours free time for you to spend as you like exploring the Art Deco town of Napier.
We regroup mid-afternoon to sample world-class wines at local wineries, ending the day at the stunning Old Church winery for a sunset dinner.
Overnight stay at the Nautilus Hotel and the Masonic Hotel
DAY 3 - Wednesday 10 April
Hawke's Bay with Jo McCarroll
Breakfast will be enjoyed at your respective hotels.
Today is all about the outdoors. The morning kicks off with an authentic paddock-to-plate experience, where you'll enjoy a demonstration on how to harvest and prepare local, seasonal produce and use it to create delicious dishes.
Your day of flora continues with an afternoon of interactive workshops with a choice of three different options including constructing floral arrangements, creating botanical skincare or planning your edible garden. And what's more is you'll leave the workshop with the goods you created and the inspiration to pursue a new passion.
To end the day, we'll head to the iconic Mission Estate winery for a drink on the terrace followed by a dinner in their historic chapel venue.
Overnight stay at the Nautilus Hotel and the Masonic Hotel
DAY 4 - Thursday 11th April
Travel Day - Hawke's Bay - Wellington via chartered train
Although it's an early start to the day - it promises to be a beautiful one travelling back to Wellington, but this time via the scenic Manawatu. Breakfast and lunch will served on board the train with stops along the way to enjoy the scenery.
We arrive back at the Wellington Railway Station at 4pm, so please ensure any travel arrangements you may need to make out of Wellington, are after this time.